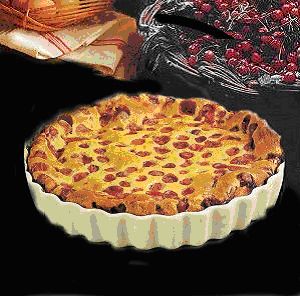 The Cherry Claufoutis was originally made with whole cherries. The pit emits a nice almond flavor to the dish when cooked.
Looking for something new and different to do with the abundance of summer time fruit?
This recipe works great with fresh cherries and berries. Blueberry Clafoutis is my all time favorite, and I can't wait to try peach and berry clafoutis. Thawed frozen fruit will work and rinsed and drained canned fruit will also work in a pinch or the middle of winter.
Claufoutis (pronounced kla-foo-TEE ) is a traditional French pudding. It is great served with whipped cream, ice cream, half & half or just a dusting of powdered sugar. Traditionally it is more of a dessert, but I have found it to be a great breakfast food and it sets nicely in the fridge.
1tsp margarine or butter

1.25 lbs fresh cherries (pitted or whole), strawberries, blueberries, blackberries, raspberries or peaches

3/4 cup milk

2 eggs

2 tsp vanilla
5 TBS powdered sugar

7 TBS flour

1/8 tsp salt
Preheat oven to 350 F

Grease baking dish with margarine or butter.
Rinse and dry fresh fruit. ( for canned fruit: rinse and drain; defrost frozen fruit)
Whisk together milk, eggs, vanilla until smooth (in a large bowl).
Add powdered sugar 1 TBS at a time whisking until fully absorbed (reserve the last TBS for dusting before serving)
Add flour the same way, whisking until smooth, adding the salt in at the end. The batter is a bit runny like a cake batter.
Pour into dish and sprinkle fruit around evenly. Bake 50-60 minutes checking with a sharp knife the center to be cooked completely. The fruit may be very juicy and make it difficult to tell if it is cooked all the way. Another way to check is to cook until the center does not wiggle (like custard pie). Serves 6.
**Please note when searching for Claufoutis recipes be sure to check alternate spellings like Clafoutis and Claufuti